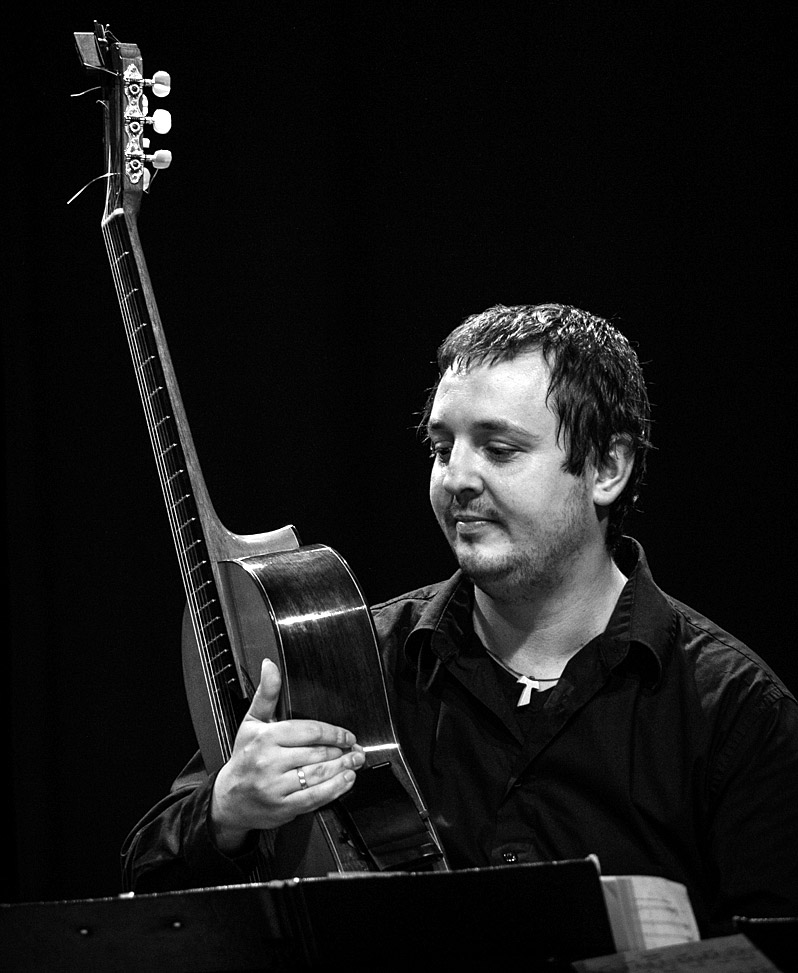 – president of the competition jury –
Antonio Rumenović was born on 30th May 1983 in Varaždin. He works at the Music school in Varaždin. Since 2006, he has also worked at the Music school "Bonar" in Zagreb.
He finished elementary and secondary music school under the mentorship of prof. Moreno Vinceković. In 2001, he enrolled the Music Academy "Ino Mirković" in Lovran in the class of prof. Carlo Marchione and assistant Neno Munitić. He graduated in 2005 at the Music Academy of Zagreb, in the class of prof Istvan Romer.
During the year 2006, he enrolled master's degree and post-graduate studies in the Netherlands, at the Hogeschool vor Muzik in the Conservatorium at Maastricht. He completed his master's degree during the year 2008 in the guitar class of professor Carlo Marchione. As a soloist as well as a member of a chamber ensemble, he performed in Croatia and abroad (Netherlands, Italy, Austria, Hungary, Serbia, Slovenia, Macedonia). He has been a member of the chamber ensemble "Laurum" since 2011, which published its first record with original compositions under the same name. While he was still a post-graduate student, he started working in elementary Music school "Ivo Tijardović" in Delnice. He completed his post-graduate studies in 2005. Afterwards, he started working in the Art school "Fortunat Pintarić" in Koprivnica until 2019.
As a pedagogue he achieved extraordinary success with his students at Croatian and international competitions. The city of Koprivnica repeatedly awarded him as the best teacher. The Education and Teacher Training Agency under the Ministry of education, science and sports awarded him for excellent results with students during the school years 2010/2011 and 2014/2015.

From 2011 until 2018, he had been the lead teacher of Summer guitar school in Koprivnica. More than 120 students took part in the Summer guitar school. He has been one of the lecturers in the Winter guitar school in Solin since 2014. For the last eight years, he participated in different guitar competitions, such as Zagreb Guitar Festival, Festival Internacinal de Gutarra Guimaraes, Omiš Guitar Fest, Enrico Mercatali Gorizia, Tremolo Skopje, Sarajevo International Guitar Festival, Guitar Art Beograd, Porečki Tirando, Pula Guitar Fest, Sonus Križevci, and others.
He is a member of the Croatian association of guitar teachers, Croatian Music Union and the "Music Center Musicorum" association. He was one of the co-founders and vice-president of the "Allegro", the association of the classic guitarists in Koprivnica, which was active from 2010 until 2019.
He regularly holds lectures at the symposiums in the organization of The Education and Teacher Training Agency and master classes in Croatia, as well as abroad.
He had been a coordinator of the EuroStrings – European Guitar Festival Collaborative competition, which is a project under sponsorship of the European union and includes guitar festivals from 17 member countries.
He has worked as a coordinator of Zagreb Guitar Festival competition since 2006.